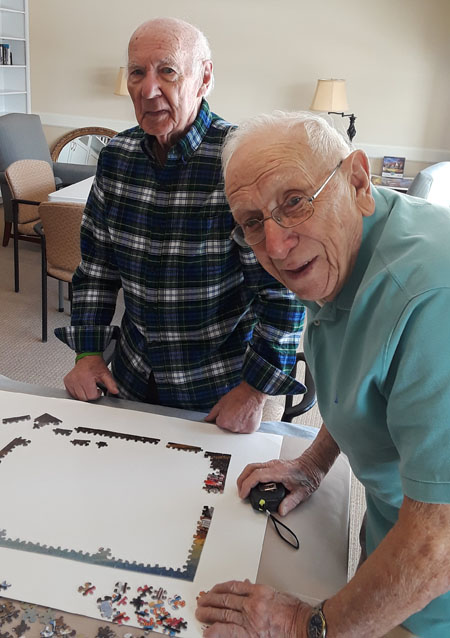 With retirement comes more time to do the things we enjoy, but often the social circle with which to do these things tends to shrink. After all, it's natural for work colleagues to drift apart when they're no longer sharing offices and coffee breaks, and even close friends and neighbors may find themselves separated by hundreds of miles as they relocate to be closer to children and grandkids. Unfortunately, this change in our social network can lead to feelings of loneliness, isolation and even depression, despite all the freedom that retirement affords.
So how do we expand our social network and forge new friendships in retirement? Many active older adults are turning to senior living communities for the chance to connect with likeminded individuals.
Senior Living Communities Make it Easier for Older Adults to Socialize
Here are just a few of the ways that senior living communities make it easier for aging adults to socialize and make new friends.
Volunteer Opportunities
Getting involved in a cause that's important to you will introduce you to other civic-minded people, both within your senior community and the greater community in which it resides. Not only does volunteering encourage social engagement and open us up to new friendships, but it can help renew the sense of purpose that is sometimes lost when we leave behind a career.
Clubs & Groups
What better way to meet people who share your love for a particular hobby than by joining a club? Whether you enjoy quilting, playing cards, golfing or bible study, many senior living communities have groups dedicated to these activities and more. Attending meetings is a great way to build lasting friendships, and if your community doesn't have a group for your favorite pastime yet, you can always organize one.
Exercise Classes & Educational Programs
Have you always wanted to learn a foreign language, take a cooking class or try yoga? Now you can, and you can make a new friend or two while doing it! Learning new skills helps improve our cognitive health and, if you choose aqua aerobics or tai chi, you get the added benefit of physical health, too. The best senior living communities provide residents with multi-dimensional wellness programs, which include vocational and educational classes in addition to health and fitness.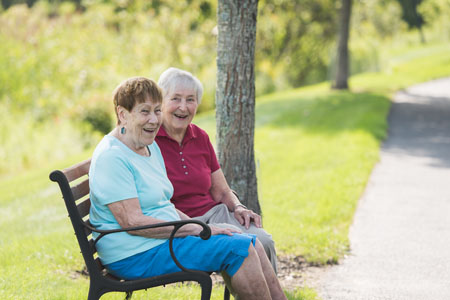 Resident Friendships
Glen Eddy
Some friendships get off on the wrong foot, and you might say that was the case between Katie and Reba. Although they met at the Glen Eddy, the two women were raised in different parts of the world. Katie was born and raised in Finland and later moved to Poughkeepsie NY, where she raised her family. Reba was born in Schenectady, and raised her family in nearby Glenville. Both avid walkers, the two met while walking outside at the Glen Eddy one day. Katie saw Reba in the distance and waved, but when she caught up to Reba and offered a "hello", the other woman failed to respond. As Reba recalls, she thought Katie was walking too fast, and she didn't think she'd be able to keep up with her pace. Despite that first encounter, and their varied upbringing, Katie and Reba have gone on to become close friends and walking buddies.
Hawthorne Ridge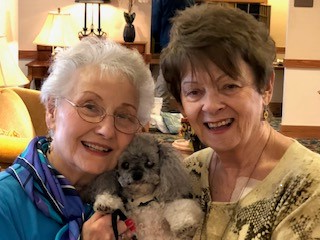 When Joyce was moving some things into her new apartment in August 2017, she and Emmi ( Joyce's dog) met Barbara in the hallway and when Barbara saw Emmi she said "I will be your babysitter whenever you want!" Over the last almost year and a half, Barbara and Joyce have grown very close – they are both the "glass half-full" kind of ladies and always have each other's backs. They can go a couple of days without seeing each other and they don't miss a beat when they are back together. The only thing they disagree on is what time to get up in the morning. Barbara and Frank wake up around 6:00-6:30 a.m. and Joyce said "don't bother me until at least after 8:30 a.m."
Glen at Hiland Meadows
Ray and John first met when Ray was asked to have lunch with John and welcome him to The Glen at Hiland Meadows Senior Living Community on his first day. While their upbringing was very different, the pair soon realized that they have a lot in common. Both Ray and John spent many years working in hospitals, one as a doctor and the other as a plumber, and they share a love of sports – although Ray is quick to admit that John knows a lot more about baseball having grown up playing stick ball in the streets of New York.
When the community poker game was short a player, Ray recruited John. And John, in turn, introduced Ray to the game of pool. The two men have also discovered a common interest in jigsaw puzzles, which they now work on together, instead of at home alone as they did before.
Meet Seniors Like You in the Albany NY Capital Region
Looking for one place where you can do all of this more? The Eddy Senior Living Communities make it easy for seniors to engage socially and make new friends by offering a broad range of social activities and events, exercise classes, excursions, educational programs, volunteer opportunities and more.
Retirement is not about getting old and slowing down, it's about having more time and freedom to do the things we enjoy, and surrounding ourselves with others who want the same. If you're looking to meet other active seniors like you, we invite you to take a look at Eddy Senior Living. We have five independent senior living communities in Troy, Slingerlands, Niskayuna, East Greenbush and Queensbury. Contact us, or call (877) 748-3339 to schedule a tour.