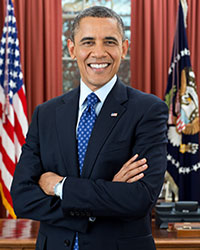 With the US Presidential nominees set for this November's election, it's a good time to take a look at what today's Seniors (anyone who is older than 60) have experienced when it comes to our national leader. Seniors today have lived through at least 11 Presidents by now, and some have lived through as many as 17.
We will focus on the 11 right now. This total includes:
6 Republican Presidents and 5 Democratic Presidents.
5 of who are still alive today: Jimmy Carter, George H. W. Bush, Bill Clinton, George W. Bush, and Barack Obama.
4 of who attended Yale: Gerald Ford, George H. W. Bush, George W. Bush, and Bill Clinton.
3 of who attended Harvard: John F. Kennedy , George H. Bush, and Barack Obama.
2 of who attended a military academy: Dwight D. Eisenhower, and Jimmy Carter.
1, Dwight D. Eisenhower, was a 5 Star General in World War II.
All past Presidents, for the last 80 years, have a Presidential Library.
Collectively, these Presidents have done a great deal to enhance the lives of the citizens of the US. Some of their achievements were:
Alaska and Hawaii became states.
Sending a man to the moon.
Signing of the Civil Rights Act.
Tearing down of the Berlin Wall.
Signing of the Americans with Disabilities Act.
Family Leave Act.
Evolution of the Internet to allow it to become what it is today.
People of the Greatest Generation have had the opportunity to see and learn so much over the course of their lives. This is evident when we take the time to realize all the historical events they have lived through. Take the time to talk to a family member or friend who has experienced this in life, ask a question or two, and then sit back and listen to the amazing stories that unfold. We see that happening quite often in the gathering areas and hallways of our Eddy Senior Living communities. It never stops to amaze us when we see the sparkle in residents' eyes as they tell stories about events they lived through.