One of the best things about the Capital Region is that no matter what age you are, there is always something fun, educational or exciting to do. From Albany to Saratoga to Lake George, family and friends are never short on things to do, especially in the summertime. Need some inspiration? Here are some of the best things going in the Albany area.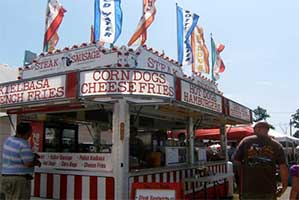 County Fairs. From great local foods and amusement rides to agricultural education and just being outdoors, annual County Fairs are a highlight of the summer in New York State. Many of the counties around the Capital District host one, including Saratoga, Warren, Washington, Altamont and Schaghticoke Counties.
Museums and the Arts. People unfamiliar with the Capital Region may not be aware of this, but the Saratoga – Albany region is how to hundreds of museums and other places you can go and enjoy the arts. This includes the New York State Museum, Museum of Innovation and Science (Schenectady), Children's Museum at Saratoga, Chapman Historical Museum (Glens Falls) and many more. These are perfect excursions for fun and learning, especially when the weather doesn't cooperate.
Saratoga Performing Arts Center (SPAC). One of the most appreciated aspects of living or visiting the Albany – Saratoga region is that you can enjoy some of the best things that big cities have to offer without having to deal with the traffic or high prices. And nothing exemplifies this more than the artists who perform at SPAC year after year. This includes the New York City Ballet, The Philadelphia Orchestra and the annual Jazz Festival.
Outdoor Trails. Whether walking, hiking or biking is your favorite, the local area has it all. The Albany Pine Bush has over 18 miles of walking trails. The Warren County Bikeway goes from Queensbury all the way to the Southern tip of Lake George. And we all know that there are 46 High Peaks in the Adirondacks to climb. That's just the tip of what the region has to offer when it comes to great outdoor fun in the summer.
Enjoying the Water. There are quite a few terrific options if you want to fish or boat. The Hudson River runs through most of region, and it's easy to find half-day or full day charters for a great day of fishing. Or jump on one of the cruise ships for a beautiful site seeing tour. Lakes such as Lake George and Saratoga Lake, along with smaller lakes and streams, also offer a number of activities to get out and enjoy a beautiful summer day.
Historic Saratoga Race Course. For well over a hundred years people from all over the world have been migrating to Saratoga Springs during the summer. And one highlight that both locals and tourists agree on is the famous race course. For 40 days each year the gates open up so people can enjoy sights and sounds of the exciting atmosphere in the grandstand and picnic areas (as well as the thrill that comes believing that your horse just might come in). A terrific place for families and adults.
Want more ideas? Here are events that some residents of our independent living communities enjoy attending throughout the Albany – Saratoga region during the summer:
Shopping trips
Trips to local restaurants
Events at SPAC
Trips to a number of the state parks in the region
Free concerts and live music at Freedom Park in Scotia
And much more!
Whether you are from a local town or a few hours away, when you're here during the summer, you'll never be at a loss with what to do. So when you're visiting a loved one in the area, take a few seconds and plan a great day or week.
Eddy Independent Senior Living communities are located in a number of great locations, including in Troy, Slingerlands, Niskayuna, Queensbury and East Greenbush. Active independent living at the Eddy, a trusted choice for the finest senior care and services since 1928.